the origin of E&L Galeria
Lucy Luck
The "L" in E&L Galeria
Tattoos und Piercings seit 2016 (u.a. in Augsburg, Mallorca, Salzburg, Wien)
2016-18 Piercing Rattlesnake Wien (Resident)
seit 2019 WIFI Salzburg (piercing instructor)
2019-20 Tattoo-Studio-Vienna (Resident, Owner)
Alex Tattoo Austria, Mattighofen (Guest)
2021-2022  Lucy Luck Tattoo & Piercing (Resident, Owner)
Tattoo Tatau Villach (Guest)
since 2022: SABOTEUR Thomas Sabo (manager/instructor)
Galeria Körperkunst, Liechtensteinstraße 78, 1090 Wien (Owner and founder together with my Partner Tim)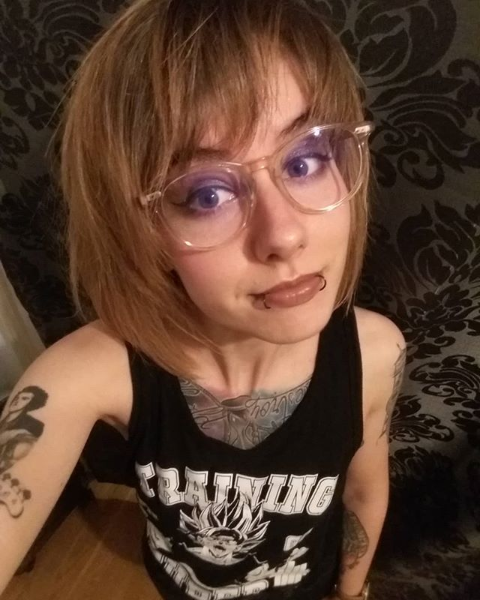 So it all began in a small village in redneck-upper-austria (you probably don't know it). Went to school, blablabla… BORING! Graduated business school just in time before world's end 2012 and ventured out to Vienna. Studied Physics to find out why the world didn't end, but it was too theoretical, so I went to Augsburg to continue with Electronical Engineering. Built a tattoo-machine there and gave it to a collegue, who worked as an apprentice in a Tattoo Studio. Guess what? His Mentor invited me and that's where the most interesting part began:
How I started to torture people for money.
So yeah electronical Engineering is cool and Informatics too (you know the movie Fight Club where Tyler Durden has a "day job" and a "night job"? Well it was just like that most of the time) and it payed the bills as I was learning how to tattoo back in Germany and eventually, in Salzburg. My collegue from the last studio whom I worked with in Germany said: "I need a Piercer. You can already do so much stuff, like drawing construction plans, calculating Gaussian analytics, all you need to learn is how to do piercings and then, we'll be indestructable!"
He sent me to Vienna to learn the art of Piercing and I also to have the Opportunity to say goodbye to all my friends. Initially, I was only planning stay for 2 months. (That was in 2017) After 2 weeks I got insanely bored so I applied at Rattlesnake and got the Jobby as a Piercer. As I said earlier, I only wanted to stay 2 months, but not 2 years. I guess that's the problem why I never got my bachelor's degree – I'm really bad at math.
2019 puberty hit me and I thought it's better to grow up and get a "society-conform" job. So I worked in a basement and worked as a System Administrator and software developer. Don't get me wrong, it was so cool, but my skin turned wrinkly and pale because I haven't seen daylight for a year (it really was a basement, this is no joke I swear). Of course the time came when I stepped out into the sunlight for the first time – took a deep breath of Vienna's street dust and came back to tattooing and body-piercing.
In summer of 2022 I met Tim (spoiler: my partner) for the first time and since that day we almost spent every day together. One day he randomly said: "Let's open a cocktailbar together", and I said: "ok." So we did. But now it's more than that, because why doing something normal when we could add extra spice and make it a:
Tattoo- and Piercingstudio
Cocktailbar/Cafè
Art-Exhibition with focus on temporary and periodically changing installations discussing all kind of interesting social, cultural and scientific subjects.
The tattoo and peiercing aspect as "art on humans" is also a subsequence of Galeria's art-factor; the visitor becomes the art.
That's the story so far.